---
Everyone at some time in their life will be affected by bereavement. If you are reading this page the chances are you have lost someone and are responsible for organising their funeral. Whether for a family member or a close friend, the process will be similar. We at IJC are sorry for your loss and hope to be of some help by making our service as simple and efficient as we possibly can. IJC are a small company based in Aveley, Essex who specialise in quality, short run printing. One area of that is funeral stationery – which is how we can help. However, as we aim to be of as much assistance as we can we have created some additional resources at the bottom of this page to aid you in other areas of the arrangements.
What is Funeral Stationery?
Personalised Funeral Stationery is a compliment to any funeral service. Our compassionate and professional approach enables you to create a bespoke item with minimum fuss. All elements of our funeral stationery range can be personalised to your specific requirements, making them applicable to both religious and humanistic funerals alike.
Funeral Announcement Cards
are a simple way to communicate to friends and family the passing of a loved one and to advise details of when and where the funeral service is to take place. Our cards are 10.5 by 7.4 centimetres and are supplied with envelopes.
A Funeral Order of Service
was originally designed to guide people through a religious funeral rite service. This is still true today when a Requiem Mass is being organised, but an order of service is often required for less formal humanistic and shorter chapel services held at crematoriums. They can also be used as memorials, where photographs, poems and messages are included to create a keep-sake in memorandum to the deceased. Our most popular size is a "sheet" which is a piece of card folded in half. If a "booklet" is required we use the card as a cover and staple one or two paper sheets inside. This gives plenty of room and flexibility for you to include as many photo's readings, hymns, messages etc as you would like. Folded page size is 21 by 14.8 centimetres and both sheets and booklets are supplied folded.
Funeral Attendance cards
are a simple a way to gather the names and addresses of those at the service. You can then send a thank you at a later date for people's attendance, tributes, help and support. The cards can be given to people as they arrive and, when completed, left in the pews for collection afterwards. Cards are 10.5 by 7.4 centimetres.
Funeral Thank You Cards
are a follow up to the Attendance Cards. Send them to those who have given you help and support or attended the funeral service expressing personal thanks with your own message. Cards are 10.5 by 7.4 centimetres and are supplied with envelopes.
Ordering your personalised funeral stationery couldn't be easier.
1. Choose your item.
2. Send us your details and we email a free draft which can be amended until you are happy.
3. When you are happy with the draft then place your order.
FREE 1st class postage included with optional guaranteed next day delivery.
Personalised to your requirements with a FREE draft sent to your email before you buy.
Printed and dispatched within one business day from receipt of your approval.
---
Additional Resources
Please see below for additional frequently asked questions and resources. We hope that you find them useful.
Q. What do I do when someone dies?
A. There are a number of things that you will need to do, the government website is very good and can be found here:- .gov website.
Q. How do I arrange a funeral?
A. Citizens Advise have a great website that advises on arrangement, payment and other things that directly relate to arranging the funeral. You can find their page here:-:- Citizens Advise.
Q. Do you know of any Funeral Directors?
A. We are in a small Village called Aveley in Essex. Our Local Funeral Directors are West & Coe in Aveley High Street, their details are:-
West & Coe Funeral Directors
28a High Street, Aveley, South Ockendon, RM10 8YP.
Phone: 01708 865804.
Louise, the manager, is very helpful and caring so do please call her for help with your funeral arrangements. You can also visit their main website by clicking the photo above:-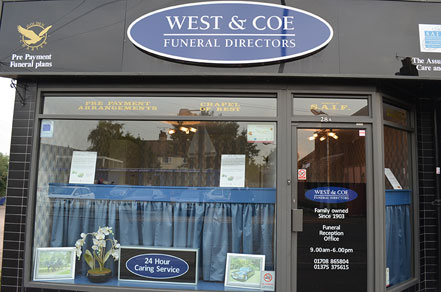 Q. Do you know of any local florists?
A. Yes, The Village Florist Aveley, again they are in Aveley High Street and are well established, their details are:-
Village Florist, 72B High Street, Aveley, South Ockendon, RM15 4BX.
Phone: 01708 866580.
You can visit their website by clicking on the picture to the right: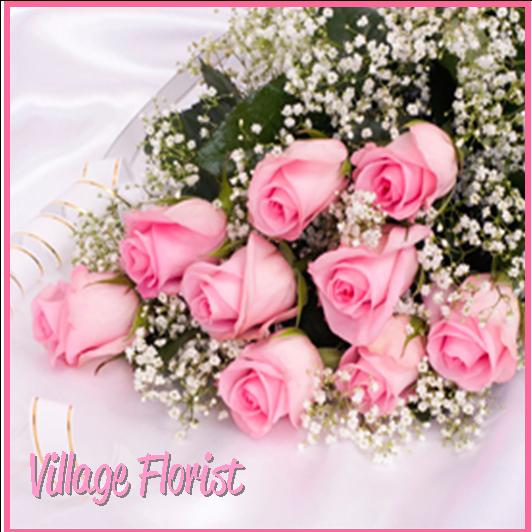 Q. Are there any local Solicitors to handle probate?
A. We do not know of a solicitor in Aveley but have dealt with Wells Solicitors in Upminster and found them most helpful, they can be found here:- Wells Solicitors.
Q. Burial and Cremation services?
A. There are two local possibilities as follows:-
1. St Michael's Church, High Street, Aveley, RM15 4AD.
Contact: The Revd Angela Tara Frankland (Tara), The Vicarage, Mill Road, Aveley, South Ockendon, RM15 4SR. Phone: 01708 891471.
2. South Essex Crematorium, Ockendon Road, Corbets Tey, RM14 2UY
Phone: 01708 434433 or 01708 434422.
Q. Where can I find a stonemason to make a headstone or memorial plaque?
A. A long established company in Rainham are J.H & T.P Duncan Ltd. They can be found here:- J.H & T.P Duncan Ltd.
Q. Where can I hold a wake?
A. Here are a few local venue's:-
Sir Henry's Bar and Restaurant Sir Henry's.
The Old Ship Inn Old Ship Inn.
The Thurrock Hotel The Thurrock Hotel.
The Crown and Anchor, 43 High Street, Aveley, RM15 4BB. Phone: 01708 867774.
Belhus Park Golf Club Bar Belhus Park
Park Tavern, Marisco/Romford Road, Aveley, South Ockendon, RM15 4PH.
Phone: 01708 863156.
We hope you have found this page useful. If you would like to comment or advise us of further useful information please contact us by email at: info@ijconline.co.uk.